Plastic fastener manufacturers still need to focus on sustainability
We expected plastic fastener manufacturers to be affected by climate change mitigation policies arising from COP 27 that would influence global business strategy.  Now the event in Sharm el-Sheikh has finished, what are the real implications for how we conduct our business in the future?
---
What does COP stand for?
The annual United Nations (UN) COP climate summits allow governments to update actions to meet climate change challenges.
1992 United Nations climate agreement signatories make up the Conference of the Parties, COP for short.
COP summits have historically focused on reducing emissions and promoting renewable energy sources.
---
COP27 November 2022 Climate Change Actions
At COP 27 we didn't see global leaders taking ground breaking action against climate change. We did not see significant progress on the elimination of fossil fuels or support for alternative technologies. We did find countries finally agreeing that the worst polluters should pay for climate change damage caused to the countries most affected by it.
We should not be surprised that there was no detailed, in-depth commitment to real change by most attendees to the conference. We already knew that only 25 countries came to the event with plans for future action developed before they arrived.
A commitment to reparations being paid by carbon emitters to support countries suffering from climate change damage is focusing on major economies. We find former UK Prime Minister Gordon Brown has targeted China for being a major producer of carbon that should be front and center for reparations funding.
---
What were the six main issues discussed at COP27?
Preparing countries for climate change impacts
Reducing emissions
Technical support and finance for climate affected countries
An emissions based costing to be added to global services and products
Reduction in burning coal
Recovery finance for countries suffering from climate change impacts
---
How are countries responding to climate change outside COP?
In the EU, the Carbon Border Adjustment Mechanism has just been implemented. This will add a 'green tariff' on imports to goods coming from countries that do not have effective emission reduction strategies and carbon pricing. This will apply to cement, electricity, aluminum, iron and steel, fertilizers, some chemicals, and hydrogen. All industries with a significant carbon footprint.
Because CBAM comes into force as soon as October 2023 in a trial version, this will create difficulties for importers who currently bring in goods to the EU from China if they do not act quickly enough to compensate for potential increases in costs.
Joe Biden, president of the USA, recently included climate change mitigation among key issues affecting US relations with China.At COP27 the president stated that the US, which recently passed landmark emissions reduction legislation, was taking leadership in global action.
What will be the response from UN Global Business Compact companies?
The measurable impact on global economies of the decisions made by the 155 companies that signed the 2020 UN Global Compact make them leaders to follow in business compliance. Combining market capitalization of more than $2.4 trillion with over 5 million employees, the UN Global Compact businesses are changing their business models to ensure future sustainability.
Global Business Compact companies promote the adoption of recommendations from global climate science, independent of government action, as part of the Science Based Targets movement on responsible corporate action. They search for measurable ways companies can have a positive impact on carbon emissions based on scientific evidence.
---
What can businesses do to improve sustainability?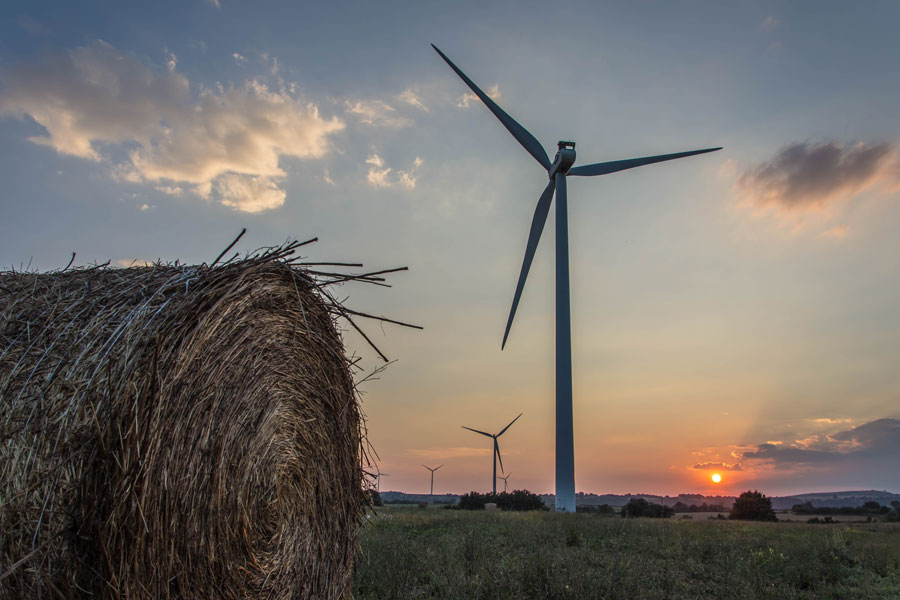 The lack of significant detailed actions coming out of COP27 should be put against a global background of pandemic recovery and economic crisis. Government legislators and policy makers have their attention focused elsewhere.
We see, however, how the public are frustrated by the inaction of governments, and are taking matters into their own hands to protect future generations from unsustainable government policies and unsustainable business practices.
The imminent changes in carbon emission pricing will affect some businesses, especially those trading with the EU and US.  In the end, though, it is consumer choices that determine business success, which means we need to meet public demands for sustainable products.
---
Eight ways businesses can meet consumer demands for sustainability
Reuse waste from manufacturing processes
Manufacture biodegradable products
Reduce your carbon footprint
Ensure products are recyclable
Use renewable energy for production processes
Include recycled materials in your products
Ensure products are durable and reusable
Reduce how much material is used in manufacturing
---
Can we build sustainability through innovative plastic fastener manufacturing?
Consumer demands for sustainable products are now greater than ever, and demand our attention to maintain essential brand reputation. We will also see impacts arising from emerging legislation to control carbon emissions and reduce the use of fossil fuels and byproducts, including plastics.
Nifco Buckle has a long track record of sustainable design and production that ensures our products meet current and expected future standards for environmentally sustainable plastic fastener manufacturing. This is why leading global brands depend on us for plastic buckles and fasteners.
Nifco offer the best fit for people & planet
At Nifco, we continue to achieve our aspirational goal of providing 'the best fit for people and planet.' Our innovative designs for buckles and fasteners are also sustainable designs that meet human requirements for ease of use, durability and longevity.
We follow the UN goals for plastics reuse and recycling by reducing material use in our designs for ultra-light fasteners and manufacturing plastic fasteners in easily recyclable plastics. In addition, the ReNifco manufacturing system eliminates production line waste. We also employ post consumer recycled plastic in the manufacture of many of our standard products.
---
What are four ways Nifco builds sustainability into plastic fastener manufacturing?
Using easily recycled plastics
Closing the manufacturing cycle with ReNifco
Ultralight fasteners made of recycled plastics
Plastic fastener designs that minimize material use
---
Using easily recycled plastics
Nifco demonstrates commitment to recycling by using recoverable and recyclable plastics in our plastic fastener manufacturing. We offer a range of products that include proportions of post consumer recycled plastics, which are also easily recyclable. This supports 'closing the loop' in global plastics manufacturing.
Closed the manufacturing cycle with ReNifco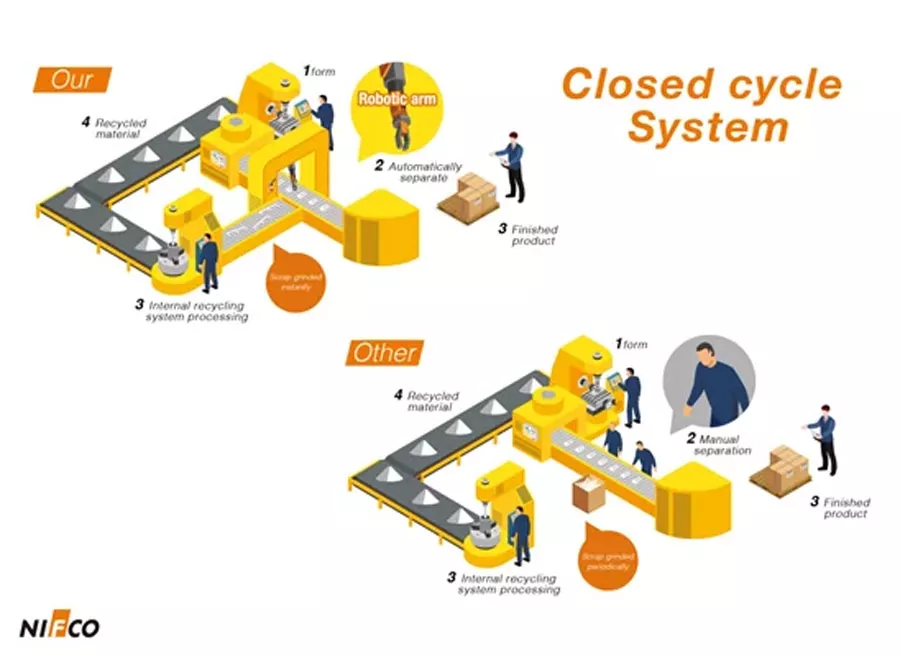 Our automated in-line waste recycling system is a closed-cycle manufacturing process that reuses trimmings from manufacturing buckle and fastener moldings. Waste plastics are reground, extruded, and put back into production feed.
The ReNifco system demands less raw material than open cycle production and eliminates carbon losses from transporting waste for off-site processing. Reuse of manufacturing trimmings ensures no waste goes to landfill and optimizes the precision of using exactly the volume of plastic required for a production run.
---
What are three benefits that come from in-line waste recycling?
The elimination of manufacturing waste
No waste plastic ends up in landfill
Reduced carbon footprint because no waste transportation is required
---
Ultralight fasteners made of recycled plastics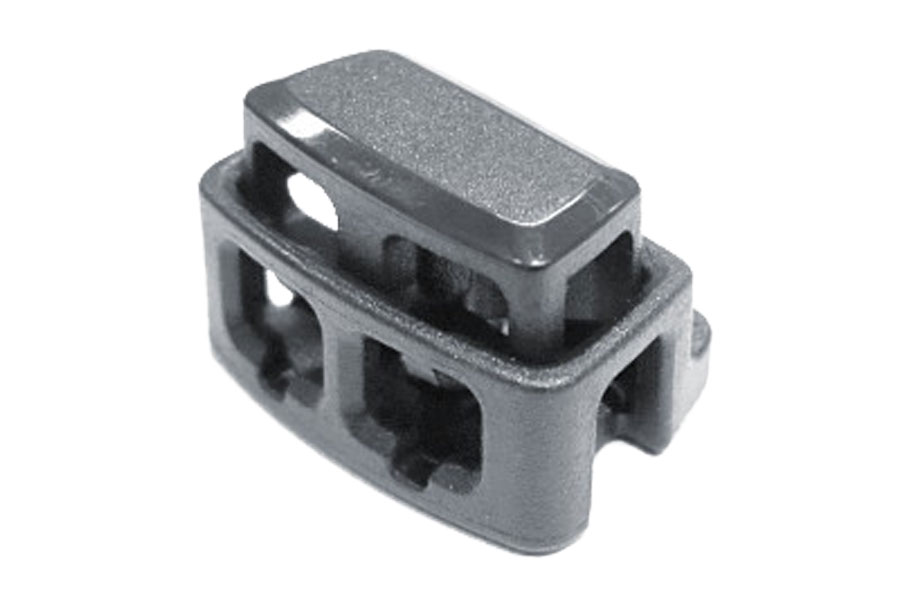 Nifco's advanced plastic fastener design and engineering technology enables us to make ultralight plastic fasteners without reducing functionality or strength. We classify any fastener weighing less than 0.8g as 'ultralight.' Our innovation in this field is so strong that the majority of our ultralight products weigh less than 0.5g!
Weight reduction below one gramme in stoppers and cord locks can reduce plastic use to a minimum. The CLUT2A pictured above is a high performance cord lock for cord sizes from 2-2.5mm, which weighs a mere 0.68g.
The majority of our plastic fasteners and buckles are manufactured from easily recycled POM, and when we incorporate recycled POM in our production process this further enhances our sustainable manufacturing credentials.
Plastic fastener designs that minimize material use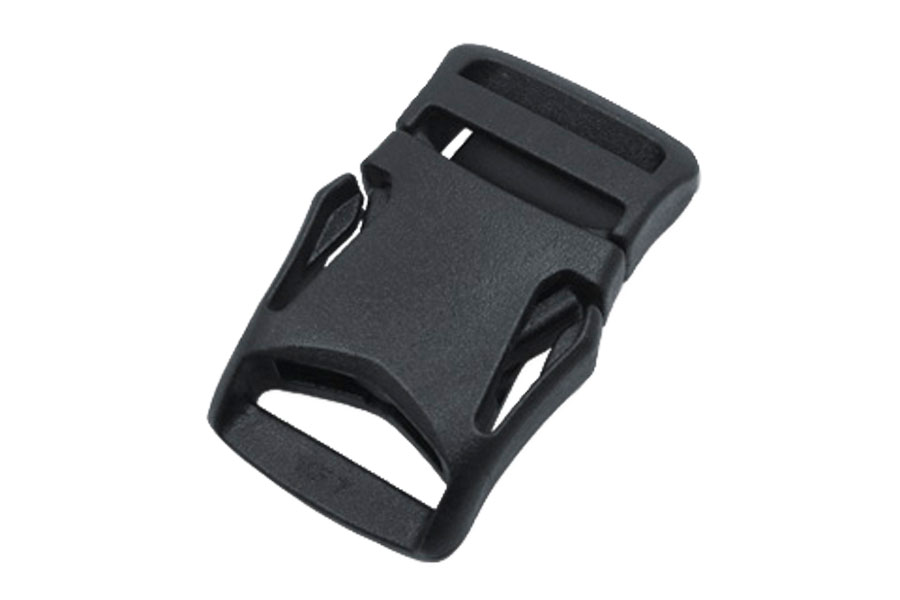 Our decades of experience in minimizing material use by improving design means we can offer our customers products like the Nifco SRGT range of side-release buckles, The SRGT16 (above) has an innovative design for ease of use even when wearing heavy gloves, and is also extremely lightweight.
Nifco: the best-fit manufacturer for sustainable plastic fasteners
Future legislation will continue to fight climate change, and consumers will demand ever greener and more sustainable products. That is why Nifco offer a wide range of solutions for best practice in green manufacturing to build customer confidence in the sustainability of your brand.
Our innovations address the need for holistic high performance plastic fasteners and buckles that keep you ahead of future demands for a greener economy. With Nifco fasteners you can rest assured that there is at least one element of your product that you need not worry about. We combine innovative functionality, excellent designs,and optimized appearance to get the best possible fit for our customer requirements. Contact us to discover how we can help your brand demonstrate your sustainable commitment to a better future for our planet.