Plastic Fastener Manufacturer Addresses The Challenges Of Sustainable Production
At the recent 5th UN Environment Assembly Summit on waste management Global leaders agreed to take significant steps to curb the impact of plastic waste pollution. At the summit, which was held in Nairobi at the beginning of March, two major proposals to eliminate plastic pollution were agreed among 14 resolutions made.
Proposals Focus on Marine Pollution & Lifecycle of Plastics
A proposal led by Japan, and backed by Cambodia, Palau and Sri Lanka, focuses on marine pollution. Another coming from Rwanda and and Peru, was supported by more than 70 countries including the 27 EU participants, and called for significant measures to control the full lifecycle of plastics
Before the summit, the US and France issued a joint statement supporting summit negotiations aimed at investigating and finding solutions for a whole-of-lifecycle approach to managing plastic waste. The statement emphasized a commitment to actions that will protect the environment for future generations.
Global Agreement Reached to End Plastic Pollution
The outcome of the summit was a global agreement on the management of plastic waste, which has far-reaching implications for all manufacturers and users of plastic products. At the summit, negotiations towards legislation controlling plastic waste included a significant emphasis on design principles that reduce waste as well as promoting effective recycling.
Building a Circular Economy Through Better Design, Manufacture & Recycling of Plastics
Among 14 resolutions made at the summit, global leaders agreed "to forge an international legally binding agreement to end plastic pollution" including building a more robust "circular economy" to assist in this goal.
The focus on design principles as well as recycling are key to successfully building a circular economy around packaging design, manufacture and recycling that will protect the environment and build a healthier world.
Nifco Buckle Innovates To Meet Global Plastic Waste Challenges
As a global leader in the design and manufacture of plastic buckles and fasteners for sports, sports apparel and shoes, Nifco Buckle has an excellent record of innovation to meet the plastic waste challenges featured in the UN summit.
Our approach combines minimizing plastic material use in product design and manufacture, using easily recyclable plastics, eliminating production waste, and incorporating post-consumer recycled plastics in our new products.
ReNifco vs Open Cycle Production
Recycled Plastics
Weight Reduction by Design
ReNifco vs Open Cycle Production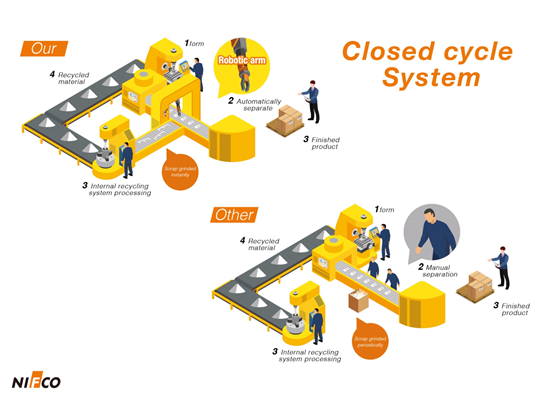 The ReNifco production system is a fully automated closed cycle process for reusing manufacturing waste generated in the molding of our buckles and fasteners. Trimmed plastics and sprues generated on the production line are immediately reground, extruded, and put back into the production feed.
In open cycle production more plastic is required than is used to manufacture the products. This increases the volume of material required. Production waste is usually sent off-site for processing by third-party companies. This increases the carbon footprint of open cycle production and is highly inefficient.
ReNifco eliminates waste production from manufacture and reduces environmental impacts from transport, waste going to landfill, and on-site storage of waste products.
Recycled Plastic
Nifco is dedicated to sound recycling principles both in the use of easily recoverable and recyclable plastics in our product designs and also in the use of post-consumer recycled plastics in new products. As an example, the majority of our products are manufactured from easily recycled POM plastics and include significant proportions of recycled POM in our production process.
Weight Reduction by Design
Nifco's capabilities in weight reduction and material savings have been recognized by our customers for decades. Our designers constantly innovate to meet customer challenges for smaller, lighter, and better fasteners and buckles.
We have an impressive history of developing ever more efficient designs that require less material to manufacture, deliver better performance, and feature the ease of use and design appeal that customers require.
Discover Nifco's Best Fit Solutions to Plastic Waste Management
The Nifco philosophy is to solve customer challenges by helping you find the best fit possible between design, function and appearance. We have extensive experience of innovating to achieve environmental responsibility and sustainable practices.
Our excellent design and manufacturing capabilities enable us to create a pathway for our customers to visibly contribute to the waste elimination objective of the UN Environmental Assembly.
Contact us to discover how our technological advances and design excellence can help you meet the emerging challenges arising from the need to protect and conserve our environment without compromising on your need for high performance buckles and fasteners for your products.