Plastic buckle manufacturing from post-consumer recycled POM and pre-consumer recycled PA6 supports sustainable brand development
Plastic Buckle Manufacturing Using Recycled Plastics
There are two significant plastics that are excellent candidates for sustainable plastic buckle manufacturing. These are POM and PA6 Nylon. POM is widely used in the electrical and electronic industries, and is found in post-consumer eWaste from the disposal and recycling of electronics and white goods. PA6 Nylon is commonly used in the global textile industry. Pre-consumer waste PA6 Nylon is generated in textile manufacturing.
Post-Consumer Recycled POM For Plastic Buckle Manufacturing

POM is a well known and commonly used material for plastic buckle manufacturing. Using recycled POM enables the use of existing tooling and molds to manufacture sustainable plastic fasteners from recycled POM. Excellent quality management principles ensure that the inclusion of recycled POM in plastic buckle manufacturing does not compromise strength or visual appearance.
---
Five stages of sustainable post consumer POM recycling and reuse in buckle manufacturing
Collection of post consumer EWaste
Sorting & processing of eWaste to separate plastics
Re-pelletizing of POM plastics
Quality checks to ensure uniformity and reliability
Production of new POM buckles and fasteners
---
Recycled POM products manufactured by Nifco
Nifco recycled POM products feature across our entire range of cord locks, snaps, buckles, rings and speed lace locks. If you cannot find an existing POM product listed as available using recycled POM we can rapidly verify if we can manufacture it for you using recycled POM.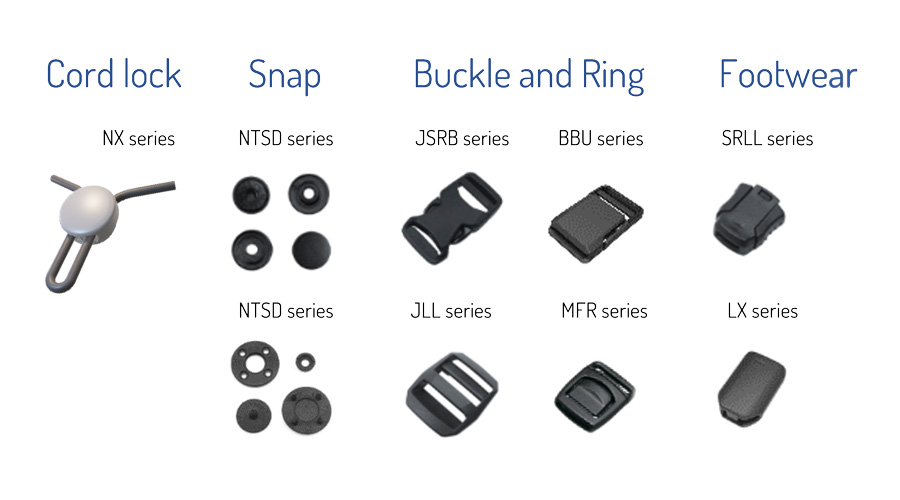 ---
What are five innovative features of Nifco recycled POM buckles and fasteners?
30% of recycled POM content
GRS certificate / DTM available
Same physical characteristics as non-recycled POM
Uses the same molds and tooling as non-recycled POM
Development time for additional catalog items using recycled POM is only 21 days
---
Innovative plastic buckle manufacturing with pre-consumer recycled PA6 Nylon
PA6 Nylon is a standard raw material used in the textile industry for the manufacture of a wide range of consumer and industrial textiles, garments, and rope products. Production waste from PA6 manufacturing is an excellent source of clean, high quality PA6 Nylon that can be used to manufacture plastic buckles and fasteners.
PA6 is an innovative choice of plastic for plastic buckle manufacturing, which enables new designs and concepts including metal-free springs developed by Nifco, which are single material spring fasteners with no metal parts. Removing metal from fasteners helps Nifco achieve the goal of enabling circular economy partnerships for manufacturing and recycling using PA6.
The current Nifco recycled PA6 product line is extensive, and we are adding new products all the time. PA6 has different flow and engineering characteristics to POM, however, so it is sometimes necessary to modify existing designs before they can be manufactured successfully using PA6.
Is recycled PA6 the best choice for sustainable plastic buckle manufacturing?
Nifco has patented metal-free designs manufactured from sustainable PA6 Nylon as part of our sustainability action roadmap. Reduced material designs minimize the use of plastics without loss of performance. Metal-free PA6 builds partnership opportunities for circular recycling and improving brand sustainability.
---
Three sustainable features of Nifco Mono Recycled PA6 products
No metal content
Minimum material use
Circular recycling friendly
---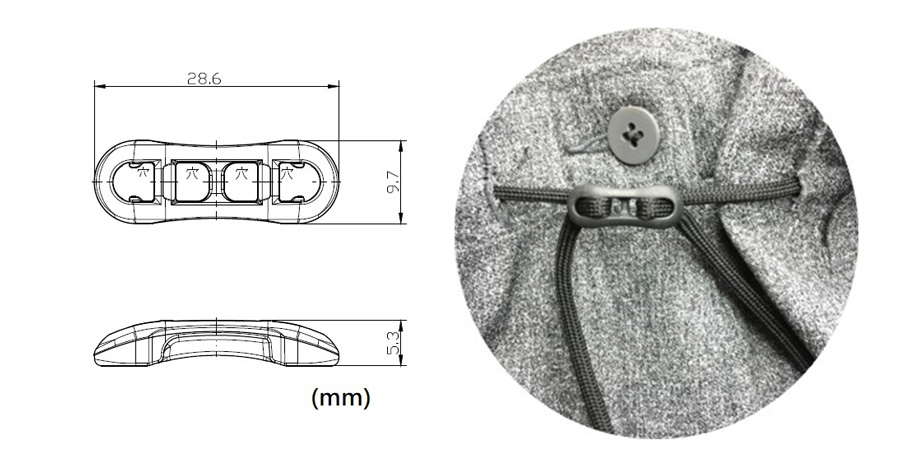 The LLP2-RB Ladder Lock is a typical example of our innovative recycled PA6 designs, and demonstrates our commitment to products that are simple to use, lightweight, durable and stylish. Without the need for knots and easy to adjust during exercise, this Nifco recycled PA6 ladder lock is an elegant, sustainable solution to a knotty problem!
Why does Nifco use recycled PA6 and not recycled PET for our innovative plastic fasteners?
PET from plastic bottle recycling has been used in clothing since the 1990s, so why does Nifco prefer to use PA6 for our plastic fastener manufacturing? The answer is simple, for the high performance brands that use our products, function and durability are essential to meet the needs of customers.
PET becomes soft and deforms at temperatures that are often found in clothes driers, and is not as strong, environmentally durable or resistant to abrasion and impact as PA6 Nylon. When you are innovating for the long term sustainability of the circular recycling economy, PA6 is a superior material to PET.
Nifco recycled POM & PA6 increase brand sustainability
We are dedicated to providing the best fit for people and planet through our sustainability actions and range of innovative recycled plastic buckles and fasteners. In addition to our internal closed-loop recycling systems, we actively source high quality plastics from external suppliers to maximize the sustainability of our products.
When you combine Nifco quality management and design excellence, you can be sure that our sustainable manufacturing does not compromise on performance or style. Contact us to discuss how we can work together to create the next generation of sustainable plastic buckles and fasteners for your brand.