As environmental legislation and consumer preferences hit the bottom line, companies are pretending to be green to save money
Are companies taking green commitments seriously?
People and governments are increasingly seeking greener, more sustainable, products and services. Businesses know that if they are going to succeed it's vital that people believe they are environmentally aware. The Greenprint Business of Sustainability Index found that 75% of millennials would spend more on a product that they perceived to be sustainable.
If a business suffers because people see it as environmentally dirty or damaging, there are always two choices. Change to meet the challenges of sustainability, or just try to clean up your image and ignore the environmental consequences. This isn't a new thing, corporate greenwashing goes back at least as far as the 1960s.
Some companies still choose to clean up their image but not their business. Even though we know climate change is a real and serious problem, news reports continue to reveal how green aims are still being used by the biggest and most powerful businesses to cover up poor and damaging choices, practices and products.
Greening or Greenwashing?
Deceptive practices that imply a company or its products are sustainable when they are not, including exaggerating benefits or hiding impacts behind minor gains is called greenwashing, and it is an attractive option for many businesses who think they can get away with it.
Some companies only conform to environmental legislation because of the risk of legal action, imagining that sustainable business is expensive and less competitive. These companies are also likely to respond to consumer opinion by pretending to be operating sustainably instead of making a genuine effort to become greener.
There has been an enormous rise in the number of certifying agencies and types of green credentials on offer to businesses over the last decades. This is especially problematic in countries that have weak definitions of 'sustainability,' including the USA. As far back as 2010, a research article in Environmental Health Perspectives confirmed that the vast majority of businesses were faking claims of green products and services. 
Can legislation stop greenwashing?
The 5th UN Environment Assembly Summit on waste management led to a global agreement on the management of plastic waste, with serious implications for manufacturers and users of plastic products. This is just one of many recent moves by national and international governments to control waste and increase sustainability.
Global leaders agreed on 14 resolutions "to forge an international legally binding agreement to end plastic pollution." The UN summit emphasized that good design principles and plastics recycling can create a circular economy that will protect the environment. This should be a wake-up call for companies to demonstrate genuine environmental responsibility.
The UN agreement reflects public concerns for the environment, and although legislation is being introduced to control specific waste generation and management concerns, this can only secure part of the change required in the mindset of our economies and businesses if we are to secure a greener, environmentally sustainable, future.
What can we do about Greenwashing?
The simple answer is to check the claims companies make about their products and services, and don't be too quick to accept everything they say, especially if you are trying to decide between suppliers based on their green credentials.
It's worth checking that sustainability claims and credentials are realistic and reputable. The BBC suggests seven ways to spot businesses greenwashing. These are:
False claims or vague language without evidence to back it up
Images of nature or 'green' buzzwords
Hiding information about products
Using carbon offsetting to balance environmental impacts
Company ownership by a non-green parent company
Eco-friendly products are a small part of a wider range of unsustainable products
Products and packaging are not recyclable without special treatment
Working with a business that is exposed for greenwashing can harm the reputation of your own company. A recent brand loyalty survey indicated that 84% of consumers are more likely to buy from a brand that reflects their own values, and that includes the values of your business partners.
Nifco Buckle: green manufacturing from first principles
As a global leader in the design and manufacture of plastic buckles and fasteners for sports, sports apparel and shoes for major brands, Nifco Buckle has an excellent record of sustainable design and manufacturing.
The best fit for people & planet
Our philosophy of 'best fit for people and planet' combines fasteners and buckles designed to meet human needs for ease of use, reliability and style with innovative manufacturing that safeguards the environment.
We minimize the volume of plastic used in product design and manufacture, use easily recyclable plastics, eliminate production waste, and use post consumer recycled plastics when this is possible.
ReNifco closed cycle production system
Easily recycled plastics
Optimized designs reduce volume of plastics used
ReNifco closed cycle production system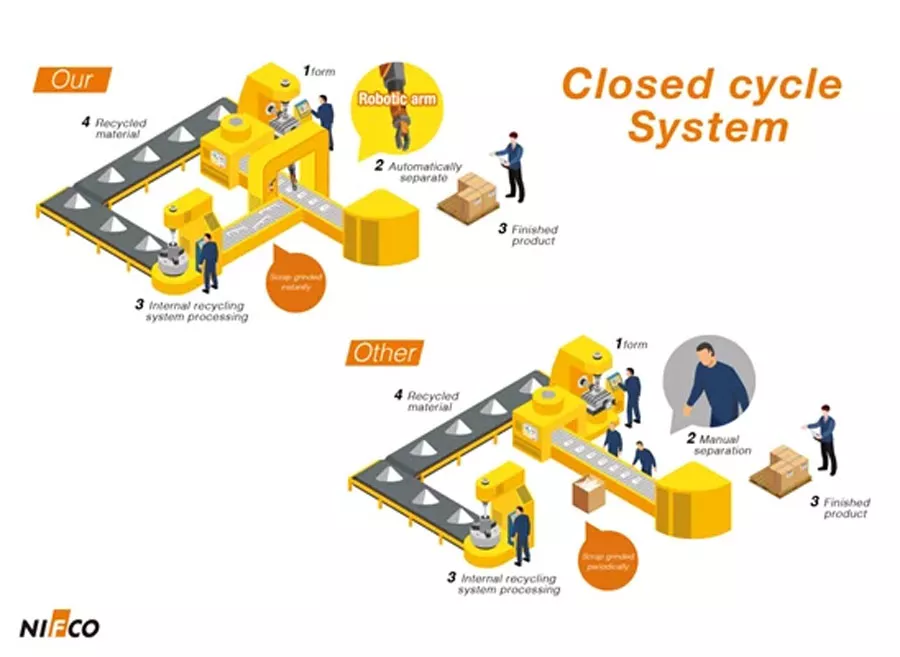 ReNifco is a fully automated closed cycle system for reusing manufacturing waste from the molding of our buckles and fasteners. Plastic and sprue trimmings are immediately reground, extruded, and go back into the production feed.
Open cycle production requires more plastic to manufacture products, and production waste is often sent off-site for reprocessing. Open cycle production is less efficient and has a larger carbon footprint.
What are the green benefits of closed cycle production?
There are four major benefits of ReNifco closed cycle production. These are:
eliminates waste production from manufacture
reduces environmental impacts from transport,
eliminates waste going to landfill
removes on-site storage of waste products.
Easily recycled plastics
Nifco's commitment to effective recycling is visible in our use of easily recoverable and recyclable plastics and the inclusion of post consumer recycled plastics in new products. The majority of our products are manufactured from easily recycled POM plastics.
Optimized designs reduce volume of plastics used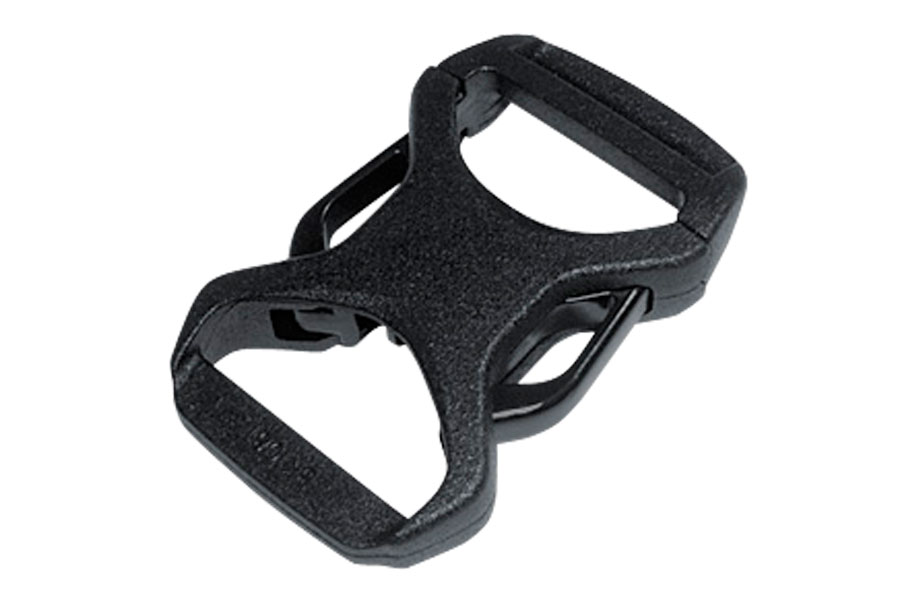 For decades, our customers have benefited from Nifco material and design innovations to meet the need for lighter, smaller, and more reliable buckles and fasteners, like our SRGB range of side-release buckles. These require less material to manufacture, deliver better performance, and feature the ease of use and design appeal that customers demand.
Discover Nifco's Best Fit Solutions for Greener Manufacturing
We help our customers find the best fit possible between design, function and appearance. Our experience of innovating for best practices in environmental responsibility helps build customer confidence in brand sustainability.
Contact us to discover how we can help you meet the emerging challenges arising from the need to protect and conserve our environment without compromising on your need for high performance buckles and fasteners for your products.